BNS Web Creations - Make a Payment
"One Time Payment"
to us online you can do that here.
Returning Visitor?
We use the same secure payment option many of our clients use, PayPal. Keep in mind that you don't need a PayPal account to use this option.
You can pay with VISA, MasterCard, American Express, Discover, a debit card, PayPal or directly from your checking account.
Just follow these simple steps to complete your transaction:
1.
Click on the
PayPal logo below
and you will be redirected to the PayPal Web site. To verify it is their secure page, watch for your address bar in your browser to turn green.
2.
On this secure page you will see a box at the top where your will enter the amount you would like to pay. After you fill in the amount you will need to click the "Update Total" button. If you have a PayPal account you will see the box to login. If you would like to proceed without your PayPal account or if you do not have one, look to the left of the screen for the following to continue: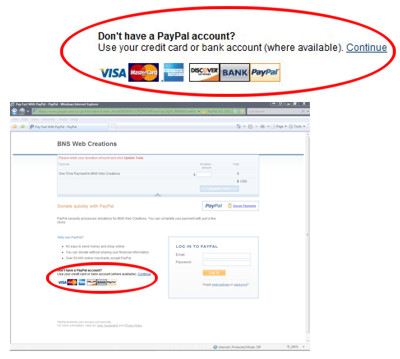 3.
On the page that follows you will need to fill in your payment information and then follow the rest of the instructions to complete your transaction.
4.
As long as you entered a valid email address during the process you should receive a confirmation email from PayPal of your transaction. On your next invoice it will be noted on the payments line that you paid online.
That is all there is to it!
Click the logo below to begin: